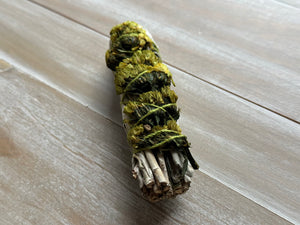 CHAKRA SINUATA + WHITE SAGE
These bundles are paired with chakra-oriented sinuata flowers. This is said to help when trying to specifically target and cleanse the seven chakras.

California White Sage is one of the most sacred herbs among indigenous North American people. Used in rituals, ceremonies, or just for cleansing and purification. The term "smudging" refers to almost any type of spiritual or energetic cleansing that uses smoke. The word comes from the indigenous North American tradition of burning dried plant materials to spiritually purify an object, space, or person. Smudging is also viewed as a blessing of sorts, giving the gift of purification to a person in need.

SIZE: 4"